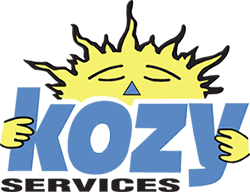 Free Estimates - Call Now!
1-972-996-2510
Air Conditioning Services
Air conditioning repair
Refrigerant replacement
Filter replacement
Dehumidification
Heating Services
Furnace Service
Furnace Repair
Furnace Installation
Repair & service heating systems
Insulation Services
Attic Insulation
Crawl Space Insulation
Wall Insulation
Air Sealing
About Kozy Services
In business since 1998, Kozy Services is your local provider of premiere HVAC, insulation, and home energy services. We're a family run business with the experience necessary to lead our industry, bringing you the best products available and the knowledge of how best to utilize these tools in your home.
Our partnership with the Dr. Energy Saver dealer network helps to keep our knowledge up to date and allows us to acquire national support for all energy-efficiency related issues.
All of our technicians are fully trained and certified to take on the problems you are experiencing in your home, from a malfunctioning air-conditioner to faulty insulation and more. Our understanding, friendly attitudes will put you at ease throughout the process. If you're looking to create a more energy efficient, comfortable home, you've found the right contractor!